When I type in ccaps into the sidebar for pages, it works if I only enter one ccap. But if I enter comma-delimited multiple ccaps, it no longer works and access is denied.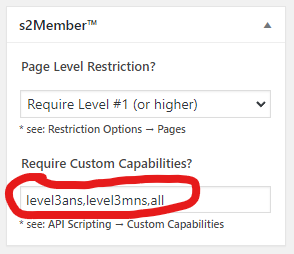 The API Scripting admin page says " Whenever you edit a Post/Page (i.e., there is a Meta Box for s2Member in your Post/Page editing station) … you can tell s2Member to require certain Custom Capabilities that you type in, using comma-delimited format."
So if I select "Level 1" for Page Level Restriction and then entered "ans" for Require Custom Capabilities, it works… but if I entered "ans,mns" (meaning I want any Level 1 user with either "ans" or "mns" ccap to have access) , then it doesn't work.
Am I doing something wrong? Or is this a bug?