When I login to the back-end wp-admin as site admin, I get the dashboard and WP page ok…
(THE ISSUE)
1.) While logged in as user or site admin: I click view the website, I am no longer able to view the website. I get the "Access required" error. Weirdly, or randomly it will operate as before, letting me view the pages, as I click around (no changes made). But 99% of the time it presents "Access required"
2.) When in WP-ADMIN, s2Member - Multisite (Config) page is blank.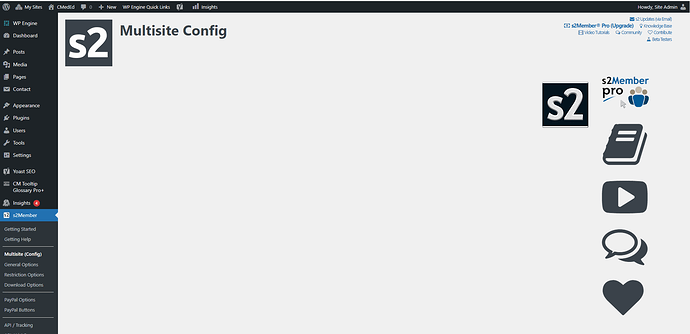 Fortunately I documented all the changes I made. It's possible one of the below may be causing the issue. Please see below for anything that may have triggered it.
(WORDPRESS)
Upgraded from Wordpress 6.2 to 6.3
(PHP)
Upgraded from PHP 7.2 to to PHP 8.2
(PLUGINS - UPDATED)
Upgraded Ajax Search Lite from 4.9.2 to Version 4.11.2
Upgraded Akismet Anti-Spam from Version 4.1.9 to 5.2
Breadcrumb NavXT from Version 6.6.0 to 7.2.0
Classic Editor from Version 1.6 to 1.6.3
CM Tooltip Glossary Pro+ from Version 3.4.0 to 4.2.8
Contact Form 7 from Version 5.4 to 5.8
Favicon by RealFaviconGenerator from Version 1.3.20 to 1.3.27
Google Analytics for WordPress by MonsterInsights from Version 7.17.0 to 8.18
PDF Embedder from Version 4.6.2 to 4.6.4
Peter's Login Redirect from Version 2.9.9 to 3.0.8.4
Post Types Order from Version 1.9.5.6 to 2.1
Quick Page/Post Redirect Plugin from Version 5.2.2 to 5.2.4
Reveal IDs from Version 1.5.4 to 1.6.1
- s2Member Framework from Version 210208 to 230815
Yoast Duplicate Post from Version 4.1.2 to 4.5
Yoast SEO from Version 16.1.1 to 20.13
(PLUGINS - DELETED)
(THEMES)
Deleted unused Theme - Twenty Thirteen
Deleted unused Theme - Twenty Fourteen
Deleted unused Theme - Twenty Fifteen
Deleted unused Theme - Twenty Sixteen
Deleted unused Theme - Twenty Seventeen
(CONTACT FORM)