I am using the Woocommerce bundle option of Memberships + Subscriptions, I only use a membership to set product discounts and I have an Woocommerce extension for smart coupons to setup a neat store credit system that is auto setup when they purchase a membership. I will be using the memberships more later for some special content setup that will be typical restricted category etc. My site is focused on a Pay Per Post setup using a 3rd party plugin.
All my current Woocommerce plugins and extensions. All the official stuff which is pricey around $525 usd per year and the one pay per post plugin which is $10 per month.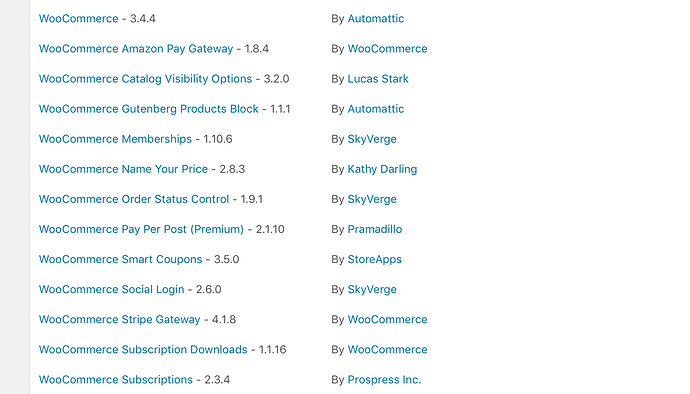 thanks ryanb - I willl check out to either move to Woo and ditch s2member fully, or maybe move to Optimizemember (fork of s2member) with ThriveCart.
Did anyone switch over to Memberpress? Switching to OPM is pretty easily possible (see it's own thread for it) -but ThriveCart is not properly supported except by using Zapier or Infusionsoft as intermediate step.
Memberpress really seems well worked out if the feature set is enough. As memberpress also supports ccaps I guess if you still need s2member for protection or whatever - you could just sell that via memberpress - and then use s2member conditionals to manage those missing features.
S2member is really good at protecting content - but it really lacks or is buggy in everything else IMHO. Memberpress with ThriveCart (or a WooCommerce setup with ThriveCart) and then s2member for nothing but it's content protection could be a killer of a setup. But selling anything through s2member or depending on s2member to manage/demote users is just a nightmare (also no plugin adds a fully working email solution to s2member). Invoices could go through ThriveCart if you don't need all the bells and whistles - or through Quaderno.io if you need (Quaderno really integrates perfectly with Woo or Memberpress or Thrivecart) and quaderno.io is super polished.
And well - even though I'm not a big fan of Gutenberg or any page builder - it really seems like it will be the defacto standard going forward. Without Gutenberg we would have a crazy situation of each pagebuilder doing things differently - and compatibility of wordpress going crazy. Gutenberg looks to set standards so that even if people continue using Divi, Beaver, Thrive Themes, Elementor and Co. - due to Gutenberg there will be a standardization in all of this which helps everyone in the long run.
Any news here? It has been often said that s2member is active developed and an update will come soon. When will that be? Somebody know more? Short feedback from the development team would be great.
Good question… IMO, while waiting a long time for next update, devs not visiting this forum and helping its paid customers with some of the ton of answered questions is unacceptable.
I would appreciate your toughs about my idea.
I can't believe the owner of this plugin disappeared this way. The plugin is still on sale on this website, some people may still be buying it. Where does the money go? To some forgotten bank account? Where they willing to exploit it as much as possible, they will drop in with a message.
Honestly, do you experienced wordpress users believe s2member will go on working for an year or more if I don't update to wordpress 5.0, or it may break in any moment? Should I just switch to another plugin right now?
Is this the time to leave the ship, before it sinks? Any advice is appreciated…
actually - to me it seems s2member is pretty dead since around 6-7 years. That's when they announced they have a new version coming which will change loads of things - promising quite a few features here and there - most of which are still not in s2member.
That's a complete rewrite I had designed, and that Jason started working on and got quite a lot done after months of work on it, but working on the existing one and other things he had going as well proved too much, so the new version was left alone and instead more development kept being done on the existing s2Member. It wasn't abandoned.
A complete rewrite of a plugin that thousands of sites rely on, is no easy task, so there was a lot to consider, and the decision at that moment was to keep going forward with the existing, working s2Member, adding new features to it.
Hi Ross! It's been a while. It's great to still see you around.

I also care a lot about s2Member, and think it has to keep going. I messaged Jason and Raam about it, and they haven't forgotten about it. I'm actually considering the possibility of coming back.
Hi Cristian!
Great to see you back!
Unfortunately, after 8 years of loyalty to S2, way too much of my business was at threat, after such a long time of no updates, or input from the WP Sharks team.
For that reason, I had to get out before the ship sunk, so I abandoned S2 4 months ago.
I really hope everyone here can save their sites - it was just too much of a gamble to continue with S2 for me.
A decade's worth of work was almost lost for me.
I'm grateful to be out, but would love to see you guys revive this plugin, to the great piece of software it once was.
All the best folks and good luck - thanks for everything!
So where did you migrate too?
I actually moved away from WP entirely, and moved my membership to Kajabi.
Handles my site, my blog, my sales funnels, payments, upsells, courses, memberships… it's been an absolute GAME-CHANGER for me.
I've gone from getting 20 sign-ups a month, to 5 or so a day.
And I don't have to worry about any maintenance or development of any of it.
You can check it out here - for transparency, this is an affiliate link:
After following this thread and others and hoping for updates for a year now, we finally decided that it's time to migrate.
Took a few weeks of research and testing out other member management systems. A couple weeks more to find a developer with the right skill set to write scripts to migrate all the data from s2member to the replacement member management system (memberpress in our case fit the functionality needs).
Really liked s2member and with a heavy heart, moving on. Glad to share the migration scripts (though would be cool exchange value of some kind here, getting to this point was time consuming and not all that cheap) and developer contact for anyone in a similar boat. Not looking to profit here in any way (other than any sort of interesting trades perhaps, tools you found useful, insights, etc) just seems this is a wheel not necessarily in need of re-inventing.
You'll love MemberPress, it's more of a complete system than most others I've used.
Hi Jake,
I'd love the contact information of your developer, if you wouldn't mind sharing it with me. I'm like you - I love s2Member and have been using it for years, but this is my livelihood and it may be time to seek out a new solution.
Hi Matt, ditto for me too
Did you receive the contact details of a developer who can migrate s2member to memberpress?
The s2member plugin is still working so don't try to convince it is dead with your migrated plugins and advert them here.
I don't think uploading updates is a way to show it is alive plugin, better one huge update than allot of smaller ones, there is for sure work done in the backend.
s2member is one of the best plugins, the others are just copy grabbers which copy from such plugins, i know this cause many grabbers come to my site for ideas to implement in their own products.